General information
The Spanish Naval Academy Library currently has two locations: the Historical, Central and Leisure Library "Cesáreo Fernández Duró" (156m2) located in the Classroom Courtyard, and the Academic Library "Gabriel Císcar y Císcar" (450 m2), located in the Students' quarter "Almirante Francisco Moreno".
The bibliographic collection of the Defense University Center consists mainly of the bibliography recommended by the lecturers of the Bachelor Degree in Mechanical Engineering subjects (as well as other complementary bibliography of these subjects), as well as that of the military field. It currently has approximately 1400 volumes.
According to the concept of the new library, the Library's archives are organised in open access, following the Universal Decimal Classification, allowing for consultation in the reading room and loan at home, with timetables adapted to the students of the centre. The Library is organising other services such as interlibrary loan, intercampus with the University of Vigo, user training and reference and bibliographic information.
The catalogue can be consulted through the Collective Catalogue of the Defence Library Network. In addition, as an affiliated centre of the University of Vigo, the staff and students of the CUD have access through the Catalogue of the University Library of Vigo to its collections, as well as to the subscribed electronic resources: electronic journals, databases, e-books, etc.
Catalogue
Recommended bibliography
Services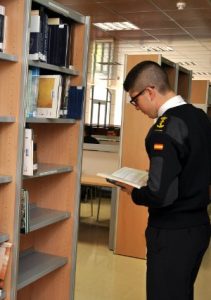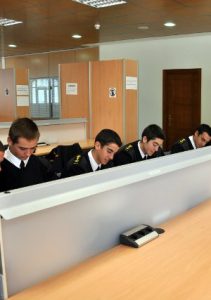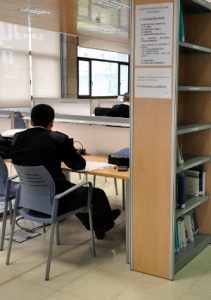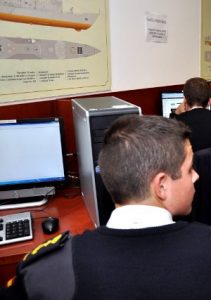 Normativa y novedades

Contacto

Horarios
Centro Universitario de la Defensa, Marín
Biblioteca
Escuela Naval Militar. Plaza de España, 2. 36920 Marín (Spain)
Tel.: +34 986804889
Ext.: 8244889
email: biblioteca@cud.uvigo.es
La biblioteca permanece abierta durante el siguiente horario:
de Lunes a Jueves:
de 8:00h a 14:30 h.
de 15:00h a 22:30 h.
Viernes:
de 8:00h a 14:00 h.
de 15:30h a 20:00 h.