On Monday, July 4th, 2022, 50 first-year students (ASP 1º) of the Bachelor's Degree in Mechanical Engineering visited the Schools of Industrial Engineering and Telecommunication Engineering of the University of Vigo, located at the Lagoas-Marcosende campus, accompanied by CUD-ENM lecturers Ms. Leticia Pérez Rial, Mr. Santiago Urréjola Madriñán and Mr. Miguel Ángel Álvarez Feijoo.
During the visit to the School of Telecommunications Engineering, the reception was in charge of Ms. Laura Docío Fernández, Deputy Director of Recruitment and Dissemination of the school, who presented the center and the degree programs offered there.
Next, the group was led to some of the most emblematic laboratories of the School: the semi-anechoic acoustic chamber, in which the students were able to learn about the main uses and characteristics of the room; the laboratory dedicated to photonic integration for optical and quantum communications; and the research laboratory on 5G technologies, Industry 4.0 and autonomous vehicles.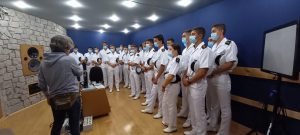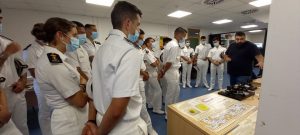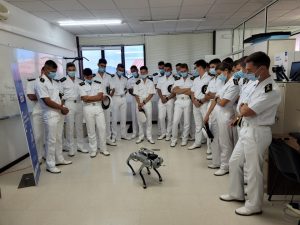 In a second part of the visit, to the School of Industrial Engineering, the reception was carried out by the Deputy Director of Institutional Projection and Students Mr. Antonio Riveiro Rodríguez. After a presentation of the center and the bachelor's and master's degrees taught, the students moved to two emblematic laboratories of the School: the Automation Laboratory and the Thermal Engines Laboratory.
The visit to the first of the laboratories, also called the Industrial Maintenance and Logistics Laboratory (Ricardo Marín Laboratory), focused on seeing the different industrial robots available, the flexible aerial warehouse (multi-reference product storage systems using trolleys), etc. In the Thermal Engines Laboratory, the students had the opportunity to see the engine, heat transmission and thermodynamics practice rooms, as well as the biomass boiler room, where the emissions produced by the combustion of this type of materials are investigated. The group was then taken to the machining workshop where they were able to attend a demonstration of equipment used in the manufacture of parts.
At the end of the visit to each of the schools, commemorative plaques were presented to the representatives of the two schools visited: Mrs. Laura Docío and Mr. Antonio Riveiro.