On June 3rd, 2022 a delegation from the Portuguese Naval Academy visited the Defense University Center at the Spanish Naval Academy. This delegation was chaired by the Commander of the Portuguese Naval Academy, the Hon. Mr. Rear Admiral D. Valentim J.P. Antunes Rodrigues, who was accompanied by the Head of Studies, Hon. Mr. CN., Mr. Hélder J. Do Carmo Limpinho and the Director of CINAV (Naval Research Center), Mr. CF. Mr. Jorge M. Lourenço Gorricha.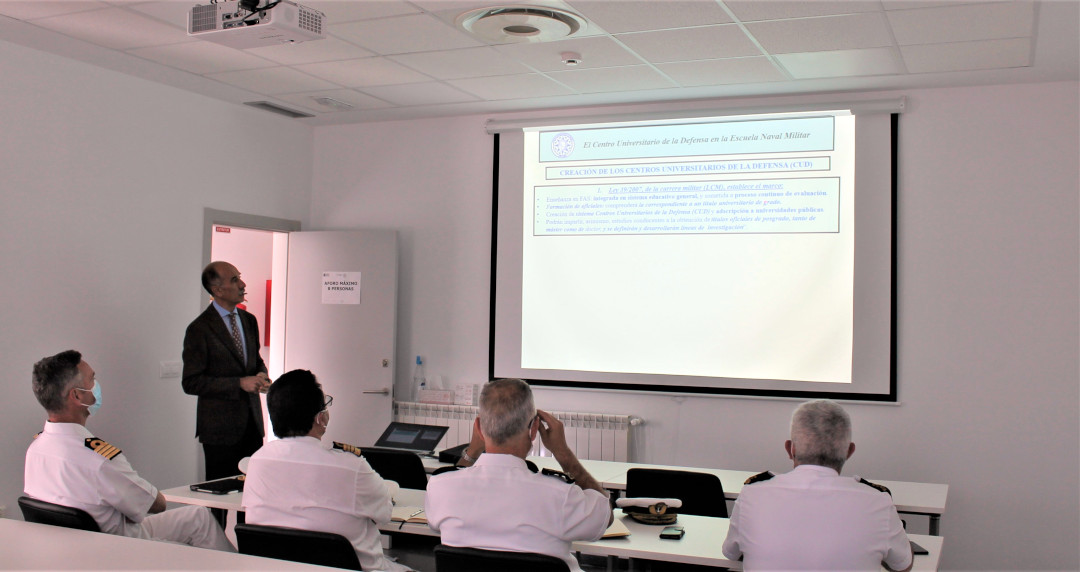 As part of their visit to the Spanish Naval Academy, this delegation had the opportunity to see the facilities dedicated to research at the CUD-ENM. In the first place, the Director of the CUD-ENM, Dr. D. José Martín Davila, made a brief presentation of the center to the Portuguese delegation, which was accompanied by the Hon. Mr.CN. Pedro Cardona Suanzes, Commander-Director of the ENM. The Director of the CUD-ENM presented a summary of the teaching and research activity of the center and, in particular, focused on the initiatives carried out at the CUD-ENM to promote the development of the research activity of its teaching and research staff.
After the presentation, a visit was made during which the Portuguese delegation was able to learn first-hand from the main researchers about the first results of some of the research projects internally funded by CUD-ENM.
Projects framed in different fields of knowledge were presented: telecommunications-computing (application of artificial intelligence techniques to improve knowledge of the maritime environment), chemical (construction of a pilot plant for the production, purification and storage of hydrogen from glycerin for use in submarines with AIP fuel cell systems), mechanical/design (virtual combat laboratory for immersive firearm shooting training), as well as communications (improvement of passive radar performance with application to the maritime field),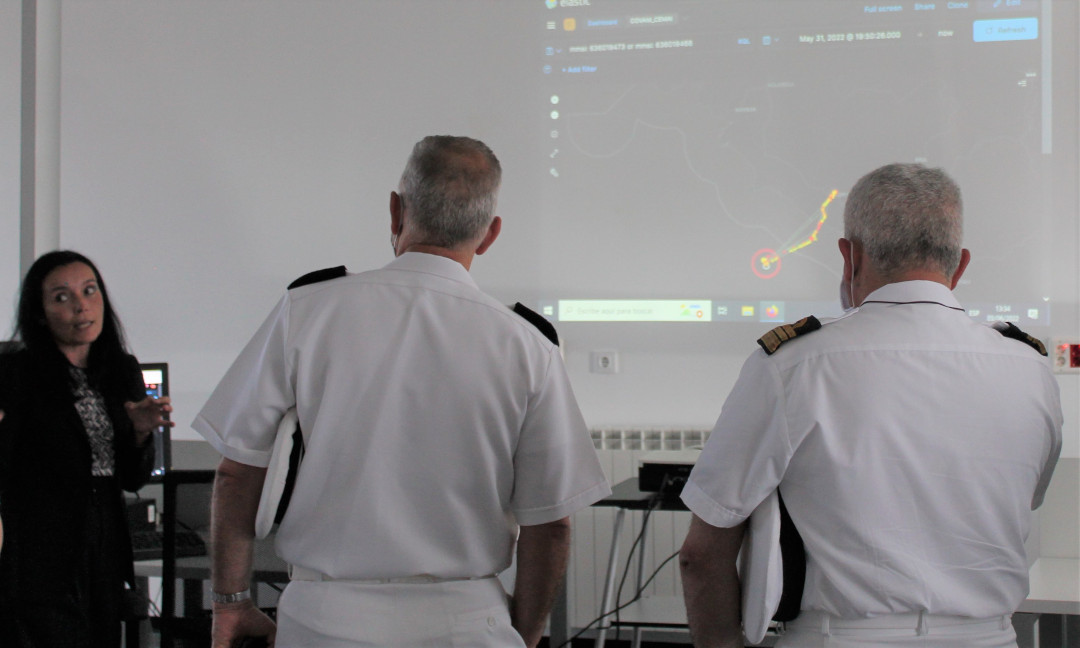 Presentation of the project APPLICATION OF ARTIFICIAL INTELLIGENCE TECHNIQUES FOR IMPROVING KNOWLEDGE OF THE MARITIME ENVIRONMENT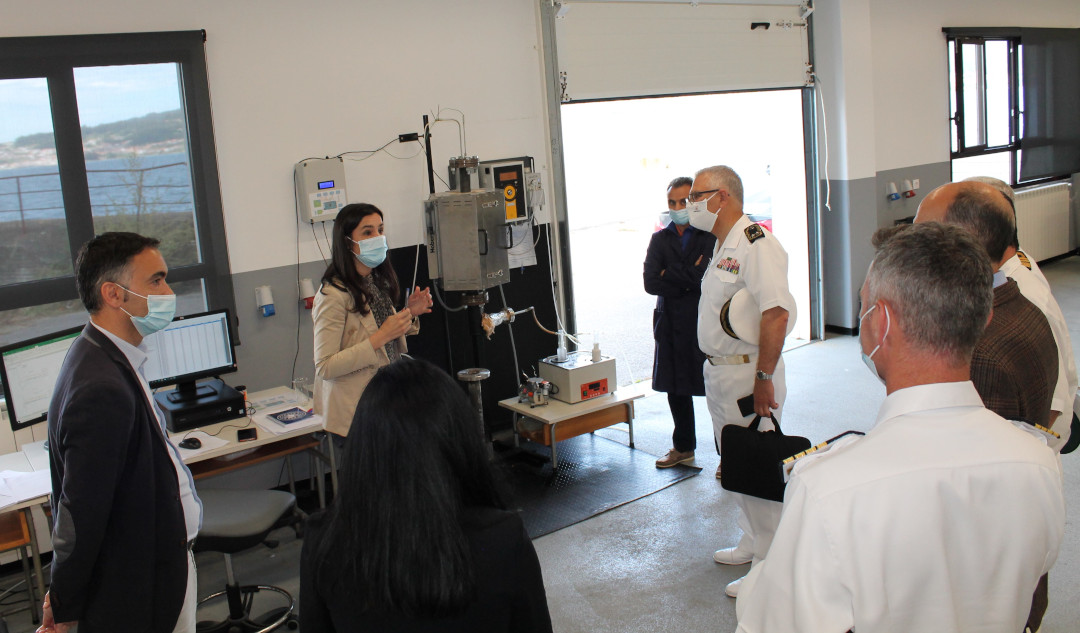 Presentation of the project CONSTRUCTION OF A PILOT PLANT FOR THE PRODUCTION, PURIFICATION AND STORAGE OF HYDROGEN WITH METAL HYDRIDES FROM GLYCERIN FOR USE IN SUBMARINES WITH AIP FUEL CELL SYSTEMS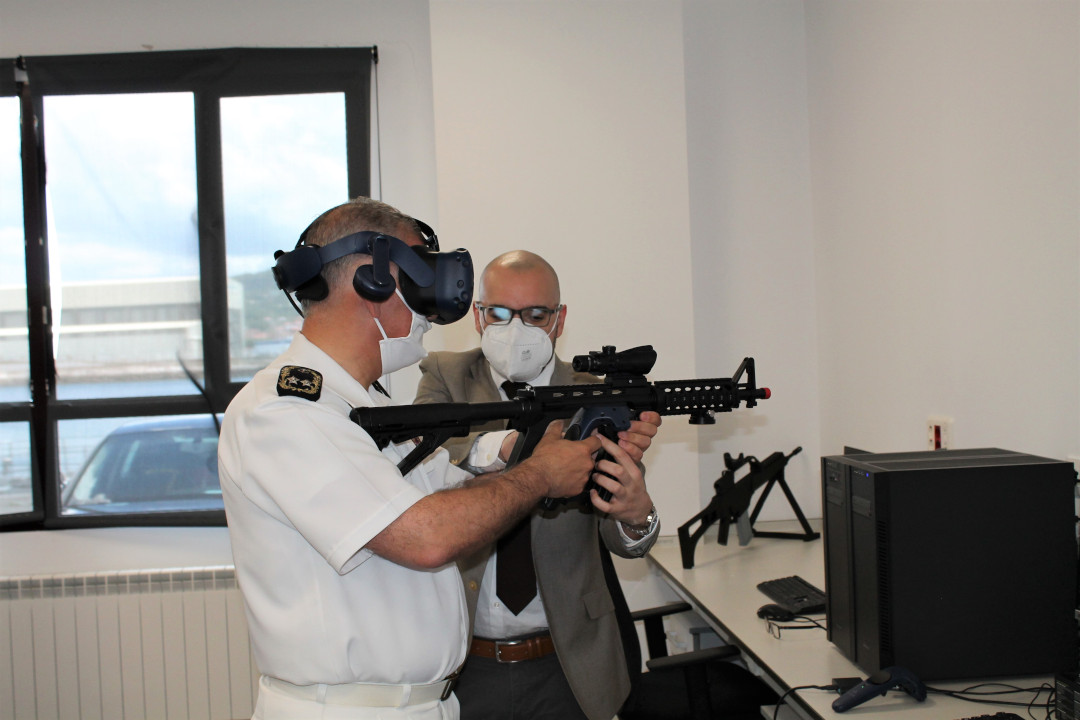 Presentation of the project VIRTUAL COMBAT LABORATORY FOR IMMERSIVE FIREARM SHOOTING TRAINING


Presentation of the project ANALYSIS OF MIMO CONFIGURATIONS FOR IMPROVING THE PERFORMANCE OF PASSIVE RADARS WITH APPLICATION TO THE MARITIME FIELD
More information on research, development and innovation projects carried out at the CUD-ENM is available at https://cud.uvigo.es/proyectos-contratos .