On Wednesday, July 5th, 2023, the fourth-year students (GGMM 2º) of the Degree in Mechanical Engineering taught at the Defense University Center at the Spanish Naval Academy (CUD-ENM), visited the facilities of the company Navantia at its shipyard in Ferrol (A Coruña), accompanied by Professor Miguel Ángel Álvarez Feijoo.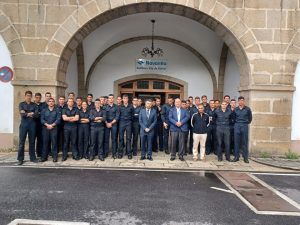 Navantia is a leading Spanish public company in the design and construction of high-tech military and civilian ships, with more than 300 years of history. Its main customers, in addition to the Ministry of Defense itself, include navies from different countries. Its business lines range from military platforms (frigates, aircraft carriers, patrol boats, submarines, etc.) to offshore wind platforms.
The GGMM 2º were received by Mr. Eduardo Dobarro Rubido (Director Navantia Ferrol) and by the CN (SE) Mr. Antonio González-Llanos López (Head of Safety and IR Navantia Ría de Ferrol). The Director of Navantia Ferrol explained to them, around the shipyard model, the history of Navantia.
Later, the students received a general talk about the company and its business lines, as well as about the production process of the F-110 frigates, given by the F-110 program coordinator, Mr. José Antonio Cabanas Malde.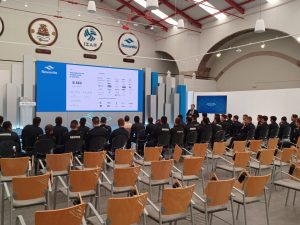 Afterwards, a brief visit to the Engineering Department took place. The students had the opportunity to listen to a conference given by Mr. José Romero Anchuelo, Head of Engineering, who explained in a generic way the current situation of the company and the design process of a warship, such as the F-110 frigate.
At the end, the visitors were taken to the Steel Workshops (Elaboration and Pre-assembly), where the Head of Production, Mr. Raúl Rico Beceiro, explained the different stages of forming and assembly of plates and profiles, preassemblies, panels, sub-blocks and blocks.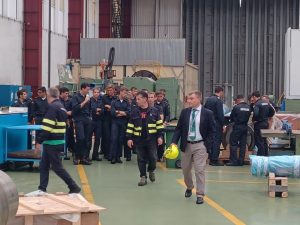 In the pre-armament hall, the students saw the first blocks of the F-110 frigate, currently under construction, as well as a full-scale replica of the frigate's mast, which will be installed in the LBTS building in Rota.
The visit to the facilities of Navantia Ferrol ended at 2:30 p.m., at which time the visitors moved to the Shipyard House, where an informal lunch was held before returning to the ENM.