On Wednesday, June 29th, 2022, the second-year students (ASP 2º) of the degree in Mechanical Engineering visited the facilities of the company Marine Instruments in Nigrán (Pontevedra), accompanied by the CUD-ENM lecturers Mr. José Antonio González Prieto and Mr. Miguel Ángel Álvarez Feijoo.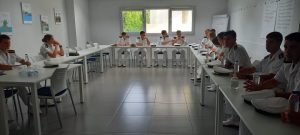 The students were welcomed and accompanied by Mr. Andrés Rodríguez Morado (Marketing Manager) and Mr. Jaime Prado Cambeiro (Incubation Lab Leader).
During the visit, which lasted approximately 2 hours, the students received a talk about the company and its lines of business and research, highlighting three main areas: the development of solutions for efficient and sustainable fishing (satellite buoys with echo sounder, oceanographic services, etc. .), in which the company has more than 15 years of experience; aquaculture projects, such as the application of hydroacoustics to shrimp feeding and, finally, the Security and Defense market in which, as part of its diversification strategy, the company has recently started its journey through the development of a pioneering fixed-wing solar drone.
The students had the opportunity to see first-hand the manufacturing process of already consolidated products, such as buoys, as well as some details of the projects that are currently in the research and development phase, such as the use of hydroacoustic techniques in applications of aquaculture. It was also possible to observe the work of the extensive technical team that the R&D department has, made up of two different but closely linked areas: satellite communications control and software development and, on the other hand, creation, design and prototyping of the physical product.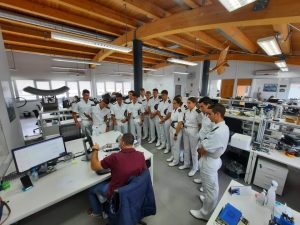 At the end of the visit, a commemorative plaque was presented to Mr. Jaime Prado Cambeiro, on representation of the company.